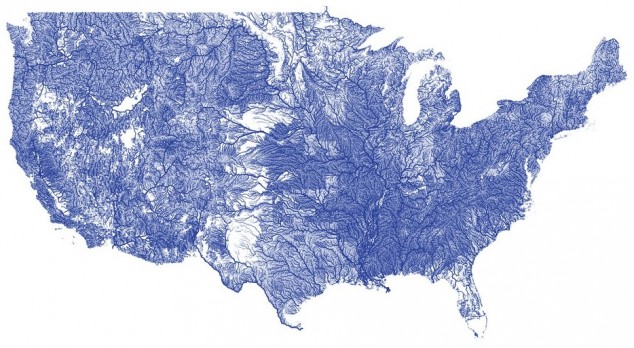 Every water in the United States. HT:
22 Words
CNET - Google plans to wipe child porn from the Web
|
Photos and videos of child pornography on the Web have multiplied at an alarming rate over the past few years. In 2011, the National Center for Missing and Exploited Children said it received 17.3 million images and videos of suspected child abuse, which is four times more than 2007.
Google has announced that it wants to help curb this proliferation of child pornography. In fact, the Web giant plans to take it even a step further -- it wants to completely eradicate child porn from the Internet.
"Behind these images are real, vulnerable kids who are sexually victimized and victimized further through the distribution of their images," Google Giving director Jacquelline Fuller wrote in a blog post on Saturday. "It is critical that we take action as a community -- as concerned parents, guardians, teachers and companies -- to help combat this problem."
Google's plan is to build a database of child porn images that can be shared with other tech companies, law enforcement, and charities around the world. The database will let these groups swap information, collaborate, and remove the images from the Web
.
USA Today - Marriage rate may be low, but more weddings predicted
|
The marriage rate is at its lowest point in more than a century, and the number of marriages across the USA fell more than 5% during the recession. But a new analysis projects that pent-up demand and the large population of marriage-eligible Millennials, ages 18-34, means more will be headed to the altar over the next two years.
Cultural changes about whether and when to marry, the fact that two-thirds of first marriages are preceded by cohabitation and the recession's financial fallout — including unemployment and underemployment — fueled the wedding decline. Projections from the private company Demographic Intelligence of Charlottesville, Va., says the signs are right for a temporary boost in weddings.
The company projects a 4% increase in the number of weddings since 2009, reaching 2.168 million this year; 2.189 million in 2014. Depending on the economic recovery, the report projects a continuing increase to 2.208 million in 2015
.
WORLD Magazine - Pew: Media favors same-sex marriage
|
A search for same-sex marriage on AP pulls up a slew of photos featuring sad homosexual couples denied the "right to marry," and not much else. Now a study by the Pew Research Center's Project for Excellence in Journalism recognizes what any perceptive reader could have told them.
Around the time the U.S. Supreme Court was considering the same-sex marriage issue, news reports had more quotes from supporters than opponents, the study concluded. Pew looked at nearly 500 stories on the topic over a two-month period that began just before the court heard oral arguments in March. By a 5-to-1 margin, stories with statements supporting legalization outweighed those dominated by opponents' views.
The findings were consistent across various media: Almost half of newspaper stories showed at least a 2-to-1 margin of pro views to con, 8 percent were dominated by opponents, and 48 percent were largely neutral, Pew said. All three cable news networks had similar proportions of supporter to opponent content in their stories.
But Pew blamed the results largely on the number of stories about polls showing societal attitudes swiftly moving toward support for gay marriage, or about politicians announcing their support.
That excuse seems unreasonable, considering an earlier Pew Research Center Survey found that 51 percent of the public favored legalizing same-sex marriage and 42 percent opposed it. Attitudes may be changing—but not as much as media coverage suggests
.
Tim Challies - The History of Christianity in 25 Objects: Tyndale New Testament
|
The moment Martin Luther nailed his "Ninety-Five Theses" to the door of the university chapel at Wittenberg, he set into motion a series of events that brought about a great Reformation. This Reformation would soon spread beyond Germany and as it did so, it would forever transform the Christian faith. One of the jewels of that Reformation is now in the collection of the British Library: William Tyndale's New Testament. It is the next of the twenty-five objects through which we are telling the history of Christianity.
William Tyndale was born in 1494 in Gloucestershire, England. Born into a wealthy family he had the privilege of studying at Magdalen Hall, Oxford and at Cambridge. He was a brilliant scholar who was soon fluent in eight languages. At Cambridge he studied theology, but remarked later that the study of theology had involved little study of the Bible. Also at Cambridge he encountered the teachings of Desiderius Erasmus and became convinced that the Bible alone should be the Christian's rule of faith and practice and that, for this reason, every Christian ought to have access to the Bible in his own tongue. The established church regarded these as dangerous ideas associated with Lutheranism and the Reformers. His controversial opinions led him to a disciplinary appearance before the Chancellor of the Diocese of Worcester, but no formal charges were laid against him
.
Dr. Russell Moore - Eschatology Reading Lists
|
Gregory A. Boyd, God at War: The Bible and Spiritual Conflict (Downers Grove: InterVarsity Press, 1997)
Paul Boyer, When Time Shall Be No More: Prophecy Belief in Modern American Culture (Cambridge: Belknap Press, 1992)
Robert G. Clouse, The Meaning of the Millennium: Four Views (Downers Grove: InterVarsity Press, 1977)
Brian E. Daley, The Hope of the Early Church: A Handbook of Patristic Eschatology (Hendrickson, 2003)
Russell D. Moore, The Kingdom of Christ: The New Evangelical Perspective (Wheaton: Crossway, 2004)
Jeffrey Burton Russell, Paradise Mislaid: How We Lost Heaven and How We Can Regain It (Oxford University Press, 2007)
Jerry L. Walls, Heaven: The Logic of Eternal Joy (Oxford University Press, 2002)