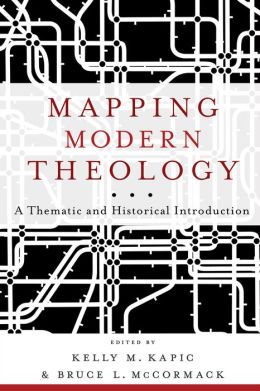 The history of theology and those who influenced it is certainly a fascinating tale. For me, among the most interesting periods of theology includes roughly the last two hundred years. Post-enlightenment theology, including both modern and postmodern theology, is particularly fascinating to me. But its importance goes beyond mere interests, but in order to understand the arguments and movements of today, we need some context. It is with that purpose I open and read Kelly M. Kapic and Bruce L. McCormack's book
Mapping Modern Theology: A thematic and Historical Introduction
(Baker, 2013).
The book begins with the editors explaining, in the first paragraph, that other similar books surveying theology of the past 200 years have been written over the decades and certainly there are some good ones available. This work, from my experience with some of those other works, is slightly different. For one, the book is a collaboration of fifteen chapters based on specific theological doctrines - the Trinity, atonement, eschatology, etc. - written by fifteen different authors with various backgrounds and experiences. Each chapter, then, is unique and contributes mightily to the study of theology of the past two hundred years. Most books like this approach the subject chronologically whereas this book approaches modern theology thematically.
Overall, the book does exactly what one would expect based on the books title and table of contents. If a student or pastor wants to study the history of a given doctrine, like pneumatology, for example, they can easily find what they are looking for here from a credible academic who writes with clear insight and depth. As a pastor I am constantly looking for both academic and popular works on theology and this is certainly one to add to my bookshelf.
Here are the chapters along with their contributors:
Fred Sanders - The Trinity
Stephen R. Holmes - Divine Attributes
Daniel J. Treier - Scripture and Hermeneutics
Katherine Sonderegger - Creation
Kelly M. Kapic - Anthropology
Bruce L. McCormack - The Person of Christ
Kevin J. Vanhoozer - Atonement
John Webster - Providence
Telford Work - Pneumatology
Richard Lints - Soteriology
Brian Brock - Christian Ethics
Richard R. Osmer - Practical Theology
Veli-Matti Karkkainen - Ecclesiology
Michael Horton - Eschatology
The chapters I found most beneficial for me would be on creation, the atonement, and eschatology. Regarding creation, Sonderegger does more than blame Darwin for everything, but shows that before Darwin, the challenge of the age of the earth was already rising. She furthermore shows the influence of Charles Hodge and how he responded which remains influential today. Regarding the atonement, Vanhoozer loosely affirms the Gustaf Aulen thesis that there are really only three: objective (Anselm), subjective (Abelard), and Christus Victor. Vanhoozer interacts with Hodge, Ritschl, Schleiermacher, and others. Finally, dispensationalists certainly won't like Horton's chapter on eschatology. He traces its history to John Darby (most do) and interacts with their interpretation of 1 Thessalonians 5 offering a different interpretation. The other chapters are just as helpful but I feel that these three are most worth mentioning.
The drawback of the book is its limitation. The subtitle of the book suggests it is an introduction and in one sense that is correct. Each contributor can only introduce the doctrine they were assigned. However, introduction does not mean "basic" or "easy to grasp." If the average believer or a young seminarian is looking for an introductory work on modern/postmodern theology, this book is not for them. The book is very deep and one can find themselves very easily swimming in the ocean of academic depth. I have three degrees in theology and at times struggled to understand all of it. This is not a criticism of the book but fair warning to the reader. If you already have a basic understanding of the philosophy of Immanuel Kant and the theology of Friedrich Schleiermacher, for example, this might be a book you would enjoy. If you cannot pronounce those names, go somewhere else. This is an academic textbook and written for that audience. Professors looking for resources and textbooks for their classes may want to give this book a look.
What I loved most about this book was the freedom the contributors were given and the insight each offers. Studying the recent trends and influential persons of theology of the past two hundred years gives important insights into what is happening today. Each writer makes that contribution respectably. There are many approaches to the study of theology. This approach, highlighting the figures of the modern period, is one profitable way and so long as there is some basic understanding of the issues and figures, I would recommend this book.
This book was provided by Baker Academic free of charge for the purpose of this review
.