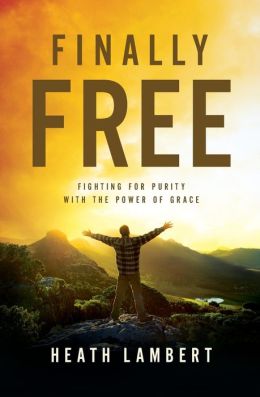 There is no porn user so enslaved that Jesus cannot set him or her free. There is no struggle for purity so intense that Jesus' grace cannot win the battle. There is no consequence so steep that Jesus' power cannot carry you through. Jesus' grace to change you is stronger than pornography's power to destroy you. Jesus' grace is stronger than your own desires to watch sex. While there is no hope for you looking at pornography, there is all the hope in the universe when you look to God and his grace.

Hope for lasting transformation begins when you cry out to God in repentance and plead with him for his forgiving and transforming grace. When you ask for these things in faith, he will never deny them to you. This prayer is the very first step you must take as you turn away from pornography God's grace is available to you right now. Do not turn the page until you sense that you have encountered God's grace in repentance. (28)
Dr. Carl Trueman has
suggested
that pornography is "probably the number one pastoral problem in the world today." I agree. Now what? How does a pastor or church counselor (or parent or whoever) help someone they love (or perhaps themselves) break free from the bondage of pornography. One helpful resource is Dr. Heath Lambert's book
Finally Free: Fighting For Purity with the Power of Grace
(Zondervan, 2013).
The author makes clear in the introduction that this is not a book
about
pornography. There are plenty of books readily available on the porn industry, the effects pornography has on the brain, statistics, etc. This is a book about how grace frees us from smut and to Dr. Lambert rightly argues that grace is the only hope we have of real freedom from sins like pornography.
Each chapter opens a new door of how to break free and a few are worth highlighting in this review. First, Lambert differentiates between worldly sorrow and godly sorrow. In essence, Lambert argues, worldly sorrow to more bondage. Godly sorrow, instead, leads us to the cross. Worldly sorrow is about me and what I might lose (or fear losing). Godly sorrow is about Jesus.
The chapter that grabbed my attention the most, from my perspective as a pastor, has to deal with humility. Pornography is not about lust, the author suggest, but about arrogance. He writes:
I have found that understanding this connection can be truly revolutionary in the fight for freedom. Many people try to help people with porn problems by turning them into victims. Perhaps you see yourself that way - as a victim of your upbringing or your circumstances, trapped in a cycle from which you are powerless to escape. Some may want to convince you that porn isn't really about sex but about the brokenness that flows from being lonely. They want you to think that deep in your soul there is a kind of tank that's supposed to be full of love - but yours is empty. They argue that in your neediness you try to fill up that tank with porn. While I appreciate brothers and sisters in the Lord who sincerely want to help, such teaching simply isn't true. There are some men who struggle with pornography because they are lonely and some who do feel unloved, but there is nothing about loneliness and lovelessness that necessarily leads to looking at immoral images. There are plenty of men who look at porn who are not lonely, and plenty of lonely men who don't look at porn.

Men look at pornography out of an arrogant desire to see women in a way that God does not allow. They show arrogant defiance to God's commands, rejecting the delight of sexual intimacy in marriage and deciding for themselves what they believe is better - looking at naked women in porn. They show arrogant disregard for God's call to selfless marital love. They show arrogant derision for the female actresses who they should be seeking to respect as women who need to hear the good news of Jesus. They show arrogant disdain for their own children by hiding their sin and inviting the enemy into their home and their marriage. They show arrogant disrespect toward all those who would be scandalized if their sin were known. The root problem with men who look at porn is not neediness - it is arrogance. (109-110)
A final chapter worth highlighting briefly regards gratitude. In essence, a heart of need turns to things like pornography. A heart of gratitude does not. After having read Lambert here, this seems obvious to me, but it is a point I have missed almost entirely.
Two more words of praise. First, the book is about grace and Lambert makes that clear throughout. However, he encourages his readers to take certain steps to prevent temptation like removing all sources of sin like computers, smart phones, etc. He encourages filters and accountability software to be used even by those who are not currently struggling with pornography. He provides helpful guides on biblical accountability. These things are not new, but Lambert's perspective is different. Before, most would preach accountability and filter's as the answer to the problem. The author suggests, however, that they are the fruit, not the root, of grace. Lambert perfectly walks the line of grace without erring on the side of law.
Secondly, though this book is specifically about pornography, pastors, counselors, and others can easily take Lambert's approach and apply it to other areas of sin. This should not come as a surprise. Grace is the answer to every sin, not just the lust of the eyes. Perhaps this, in the end, is what I appreciated most. His discussions on sorrow, accountability, grace, and pride aren't limited to sexual sin, but all sin.
I cannot recommend this book enough. It is unique among other books on fighting pornography. It avoids many topics by focusing solely on freedom and I appreciate that. If what Carl Trueman said above is right, then we must, right now, address it. There are many sitting in our pews enslaved. We cannot stay silent anymore.
I received this book free from Zondervan as part of their BookSneeze.com book review bloggers program. I was not required to write a positive review. The opinions I have expressed are my own. I am disclosing this in accordance with the Federal Trade Commission's 16 CFR, Part 255 : "Guides Concerning the Use of Endorsements and Testimonials in Advertising."
For more:
A Must Read: Searching For God & Settling For Sex
"Surfing For God" by Michael John Cusick: A Review
"Vote Like Your Lady Parts Depend on It": The Duhumanization of Women
An Exaggerated Feminine Type: Uncle Screwtape on Beauty
A Must Read: What If It Were Your Daughter?
The Great Recession or the Recession That Made Us Great?: Pornography and the Frugality of Lust
Pornography for the Blind: Our Continuing Fantasy With What Is Not Real
It Takes One to Know One: Large Families and Smug Fecundity
"Real Marriage" by Mark & Grace Driscoll