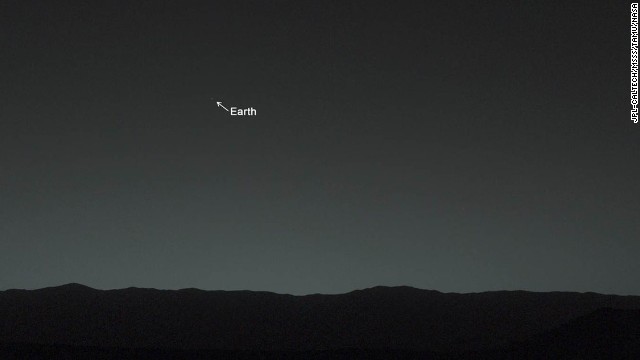 CNN - Curiosity rover takes snapshot of Earth -- from over 350 million away on Mars
Front Page Magazine - Confirmed: U.S. Chief Facilitator of Christian Persecution
Prominent indicators confirm that the U.S. is the chief facilitator of the persecution of Christians around the world today.

According to the recently released 2014 World Watch List, which ranks the 50 nations where Christians are most persecuted, Syria is the third worst nation in the world in which to be Christian, Iraq is fourth, Afghanistan fifth, and Libya 13th. All four countries receive the strongest designation, "extreme persecution" (other designations are "severe," "moderate," and "sparse" persecution).

Aside from being so closely and harshly ranked, these four nations have something else in common: heavy U.S. involvement. Three—Iraq, Afghanistan, and Libya—were "liberated" thanks to U.S. forces, while in the fourth, Syria, the U.S. is actively sponsoring "freedom fighters" against the regime, many of whom would be better labeled "terrorists."
Justin Taylor - Race in America: Why the Past Matters (A Discussion between Russell Moore and Matthew Hall)
Thom Rainer - Nine Ways a Pastor Can Lead a Church to Become More Evangelistic
Pray that the church will become more evangelistic. Conversion is an act of the Holy Spirit. These pastors thus depend on God to reach people before they introduce any type of human methodology.
Pray for opportunities to share the gospel.

I heard amazing stories from pastors about how God put people in their paths almost every time they prayed for such an opportunity. One pastor stated simply: "God does not give me a lack of opportunities if I ask Him to bring lost people my way."

Become accountable to someone else for sharing the gospel.

That person could be a family member, another church member, or another pastor.

Start new groups.

Churches that intentionally start new groups tend to be more evangelistic. These new groups could be Sunday school classes, small groups, or new ministries.

Preach the gospel.

While every sermon does not have to an evangelistic sermon in the classic sense, every message should point to Jesus. There should be some presentation of the gospel in all of the pastor's messages.

Celebrate new believers.

What is rewarded becomes normative. When pastors intentionally lead their churches to celebrate a person becoming a Christian, evangelism becomes a part of the DNA of church life.

Get the gospel in all the ministries.

Many churches have many dynamic ministries. Pastors should ask if every ministry is designed to point a person to Jesus.

Evangelize young people in the church.

Pastors of evangelistic churches seek to make certain that the youth in the church are presented the gospel. If churches were to evangelize "their own," the number of conversions would double or triple in most congregations.

Have a meal with a non-believer.

I borrowed this insight from Tony Merida. He encourages his church members to invite non-believers to have a meal with them on a regular basis. He makes a powerful case to demonstrate how often that was done in the New Testament.
Radical - Humility Before the Cross
Daily Mail - Violent video games leave teenagers 'morally immature', claims study
Spending hours playing violent video games stunts teenagers' emotional growth, a study has found.

It is thought that regular exposure to violence and lack of contact with the outside world makes it harder for them to tell right from wrong. They also struggle to trust other people, and see the world from their perspective.

Researchers from Brock University in Ontario found that those who spend more than three hours each day in front of the screen are particularly unlikely to have developed the ability to empathise.

The Canadian researchers surveyed 109 boys and girls, aged 13 and 14, about whether they played video games, which games they liked, and how long they spent playing them.

Their findings found that 88 per cent of teens said they played games, and more than half admitted to playing games every day.
How Olympian bodies have changed over the decades