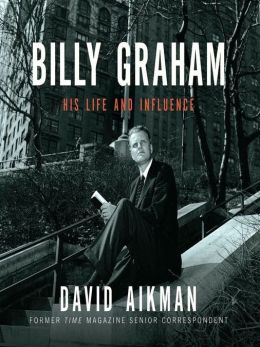 One of my lifelong spiritual heroes is Billy Graham. Perhaps no one has preached to more and had a greater impact on culture, Christianity, theology, and politics than Billy Graham. David Aikman has written a great biography on the great evangelist Billy Graham called
Billy Graham: His Life and Influence
.
Billy Graham needs no introduction, even non-believers and anti-theist know who he is. He has been the close friend and spiritual adviser with every American President since President Harry S. Trueman. Aikman provides us with a great summary of his life, travels, and influence.
What I liked most about Aikman's work is that this is more than just a simple biography. It is a biography with added commentary on who has influenced him, trends he has fallen into, critics, how he has changed, and what role he has played in catastrophic and world changing events.
Things that Changed the World
Throughout the book, Aikman reveals to the reader what role Graham has played in events that have changed the course of history. In particular, he includes a chapter on how Billy Graham has frequently assumed the role of the national consoler. Aikman traces Graham's words and actions surrounding events such as the Oklahoma City bombing, September 11, and other great catastrophes.
Furthermore, Aikman provides commentary on other interesting events in his life. In particular, I found it interesting how Graham seemed to have had a "premonition" concerning the JFK assassination. According to Aikman, Graham had a horrible feeling that something was going to happen to the President while in Texas. Graham was unsuccessful in contacting the President before he was assassinated later in Dallas.
Aikman also discusses Graham's involvement with President Nixon and the Watergate scandal. It is clear that Graham was surprised and taken aback by the actions of Nixon. Graham was genuinely hurt, but remained close to the former President. This was the event, however, that radically changed how Graham got involved in politics and the White House. Graham had been close to both Nixon and LBJ, but following the Watergate scandal, Graham seemed to have put an invisible barrier that would protect him, his ministry, and the gospel.
The Heretic
I already knew that Billy Graham had some inclusivist leanings in his theology. I had credited this to his elderly age since almost every inclusivist quote was spoken at the later part of his life. Aikman, however, opened my eyes to where this came from and why he believes this.
As with everything, theology doesn't come out of a vacuum. Anyone that studies Billy Graham's early ministry and evangelism knows that he is very orthodox in everything. He went from being a Presbyterian (as a child) and to a Baptist. But as time went on and his travels continued, his theology went about a slow evolution.
As Graham began to travel the world as its chief evangelists, his theology began to change. In several popular interviews he gave where he reveals this inclusivism, it is interesting that he oftentimes mentions those who had never heard of the name of Jesus. Over time, Graham could not reconcile how a God of love could send such people, who are sincere and try to earn favor with God, to Hell. Therefore, he, and so many like him, have concluded that people in other religions and faiths will be in heaven with Christian believers.
My biggest problem with this, outside of the fact that it is unbiblical, is that Graham complains that no one had shared the love of God with such people and countries. However, it is Graham, the greatest evangelist in the world in modern history, that is standing before them! Grant it, Graham was a preacher that preached 24/7, but how could he claim that they did not know Jesus, therefore, they will be heaven whenever the greatest evangelist in recent memory is in their very own country?
Since Graham has been in almost every country in the world, it can be argued that the gospel, in at least a minor way, has reached the four corners of the world. Graham is an evangelist who has been sent to preach the gospel, and he has done that his entire life. It is fallacy to assume that whenever he puts his feet in a country that the people have never heard of Christ.
This is the most disappointing thing in the life of Graham, and Aikman does not leave any stone uncovered. Aikman is honest and presents the argument from both sides: Graham's and the fundamentalist. I worry about the reactions of many "fundamentalist" in this area, but at the same time, shame on Graham and others for preaching such a gospel!
Conclusion
Overall, this is a great read. Aikman manages to cover the life of Graham, many of his great influences, how God has used him, what he is doing now, how he has influenced the nations, the culture, and the world. Aikman dives into almost every aspect of his life, his theology, his family, and his personal life. Anyone that reads Billy Graham will be diving into a book that is well researched and well done.
I highly recommend it.


I received this book free from Thomas Nelson Publishers as part of their BookSneeze.com book review bloggers program. I was not required to write a positive review. The opinions I have expressed are my own. I am disclosing this in accordance with the Federal Trade Commission's 16 CFR, Part 255 : "Guides Concerning the Use of Endorsements and Testimonials in Advertising."