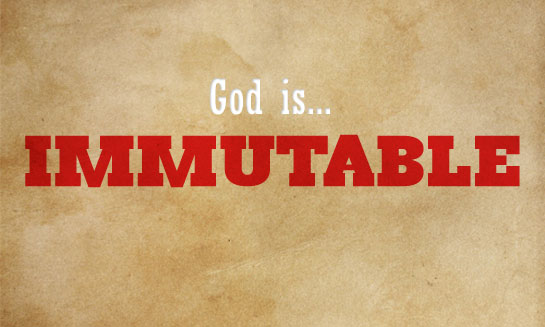 One of the most important, yet often overlooked attributes of God, is the doctrine of God's immutability which asserts that God does not change in essence or character. Although it has seen a small resurgence in Reformed circles, it remains obscure even among defenders of God's sovereignty. Even the Great Reformers themselves, apart from John Knox, though defended, did not see how central it is.
I have written on this doctrine in great detail before and those links are available at the bottom of this post. Here, however, I want to highlight how this fundamental attribute of God informs all other central doctrines of the Christian faith.
Theology Proper
- We can never speak with any certainty regarding God's character or nature - from his benevolence to his wrath, from his transcendence to his immanence - if He is not constant. God is perfect and eternal benevolent and always will be. He is perfect and eternally just, provident, simple, and holy and always will be.
Bibliology
- If God is mutable, then Scripture is either an ancient record of a progressing God, and thus no longer reliable, or is simply a myth. The line between those two is thin. Instead, if God is constant, then so are His promises and His revelation remains as relevant today as it was when ink first hit ancient papyri.
Canon
- The canon is closed. It is finished. God has perfectly revealed His work of redemption in Christ. There is no need for new revelations because neither God nor His message has changed.
Truth
- Truth originates with God and is defined by Him. Truth, then, is nonnegotiable and knowable, because God has revealed Himself.
Marriage
- What God creates, let no man redefine.
Christology
- Athanasius rightly argued that since God is eternally Father, Jesus must be eternally, and thus immutably, Son. Down goes Arianism.
Pneumatology
- The Holy Spirit continues to direct the church to look upon and adore Christ.
Soteriology
- The way of salvation remains the same. Repent for the kingdom of God is at hand.
Evangelism
- The means of salvation are the same: the Persona and Work of Christ. Methods and technology might change, but we are still called to preach the same message.
Ecclesiology
- Christ remains the Head and Lord over His church. The church's mission remains the same since its birth.
Preaching
- Preaching remains God's primary means of reaching the lost and exhorting the redeemed.
Eschatology
- God's promises remain. Jesus is returning to set up His eternal Kingdom.
Hell
- It's still there regardless of man's feelings about it.
For more:
Did God Repent?: Jonah 3:10 and the Immutability of God - Part 1
Did God Repent?: Jonah 3:10 and the Immutability of God - Part 2
"Christian Theology": Blogging Through Erickson - Theology Proper 3
"Christian Theology": Blogging Through Erickson - Theology Proper 4
"Christian Theology": Blogging Through Erickson - Theology Proper 5
The Immutability of God: Its Truth and Relevancy - Introduction
(Part 1)
The Immutability of God: Its Truth and Relevancy - Scriptural Foundation
(Part 2)
The Immutability of God: Its Truth and Relevancy - Scriptural Challenges
(Part 3)
The Immutability of God: Its Truth and Relevancy - Theological Challenges
(Part 4)
The Immutability of God: Its Truth and Relevancy - Practical Implications (Part 5)
The Immutability of God: Its Truth and Relevancy - Theological Applications
(Part 6)
The Immutability of God: Its Truth and Relevancy - Theodicy & God's Sovereignty
(Part 7)
Does God Suffer?: Aquinas on Divine Impassibility
Repost | Will the Two Become One?: Emergents Turn to Process Theology
Sermon Podcast -
April 26, 2010 - The Immutability of God