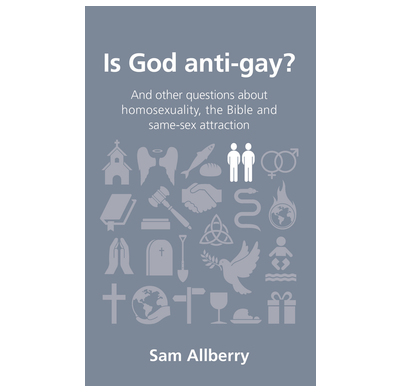 And as someone in this situation, what Jesus calls me to do is exactly what he calls anyone to do. Take another well-known saying of Jesus:

Then he called the crowd to him along with his disciples and said: Whoever wants to be my disciple must deny themselves and take up their cross and follow me." Mark 8 v 34

It is the same for us all - "whoever". I am to deny myself, take up my cross and follow him. Every Christian is called to costly sacrifice. Denying yourself does not mean tweaking your behaviour here and there. It is saying "no" to your deepest sense of who you are, for the sake of Christ. To take up a cross is to declare your life (as you have known it) forfeit. It is laying down your life for the very reason that your life, it turns out, is not yours at all. it belongs to Jesus. He made it. And through his death he has bought it.
The moral universe is shifting rapidly beneath our feet. Everytime we turn on the news or read an article on our digital devices we feels the violence of this sexual, moral revolution. Who could have imagined just a few years ago, the rapid change in the polls regarding the nation's view on homosexuality, gay marriage, and other sexual lifestyles and choices? Who could have predicted how many Christians would abandon ship in order to save their brand?
Recently I was given a free digital download from Christian Audio of the wonderful book
Is God Anti-Gay?
by Sam Allberry and I cannot recommend it enough. The book is short, taking the author only about two hours to read, and yet is full of biblical and practical insight that it has become the most important book on the subject of homosexuality and Christianity I have read.
The author openly gives testimony to his own struggle with same-sex attraction. I appreciate his honesty here. His personal struggle allows him to write in a winsome way that is honest, open, and clear. This insight into the personal struggles of homosexuality and the community along with his understanding of Scripture makes this a unique book in Christian circles. The author repeatedly offers clarity that I must admit forced me to repent.
Each chapter deals progressively with another serious issue regarding homosexuality and the gospel. For example, the author dedicates one chapter on what the bible says on the subject of sexuality in general and then follows it with a chapter on what Scripture says about homosexuality in particular. In these two chapters alone, the author provides real exegetical depth and clarity in such a short space that he manages to destroy often used liberal arguments while exhorting more conservative readers against fundamentalist interpretations.
The one chapter I appreciated the most regarded the church. It is clear that the author loves the local church and believes in her. Here the author provides the reader with biblical and gospel insight in how we, as Christians, are called to serve fellow image bearers who struggled with same-sex attraction.
Overall, I cannot, as I said above, recommend this book enough. I appreciate the free audiobook provided to me by Christianaudio. The book is read by the author (a personal preference of mine) and as always the quality is top notched. Every pastor, church leader, and Christian serious about the gospel in a post-sexual revolution, post-Christian world needs to read this book.
Christianaudio was kind enough to allow me a free digital download of this book. The quality, as always, was great
For more:
God and the Gay Christian?: A New Book by Albert Mohler and SBTS
Negotiating Our Surrender: Douthat and the Lordship of Caesar