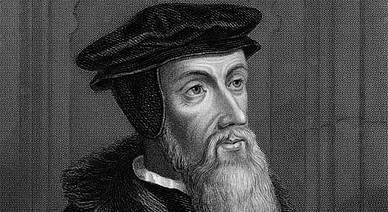 In his helpful book
John Calvin: Pilgrim and Pastor
, Dr. W. Robert Godfrey explains:
[Calvin] was buried on Sunday [May 28, 1564] in an unmarked grave at a secret location somewhere in Geneva. In one of the last commentaries he wrote, he commented on the death and burial of Moses, "It is good that famous men should be buried in unmarked graves."[1] This conviction guided his own burial. He rejected the superstitious veneration of the dead and wanted no pilgrimages to his grave. he had lived to make Christians, not Calvinists. He had perhaps written his own best epitaph in his Institutes ". . . we may patiently pass through this life in afflictions, hunger, cold, contempt, reproaches, and other disagreeable circumstances, contented with this single assurance, that our King will never desert us, but will give what we need, until having finished our warfare, we shall be called to the triumph."[2]
[1] Quote taken from John Calvin,
Institutes of the Christian Religion
, Book 2, 15:4, altered.
[2] John Calvin,
Commentaries on the Four Last Books of Moses
, Vol. 4 (Grand Rapids, MI: Baker, 1979), on Deut. 34:6, 406.
For more:
Calvin on Providence
On the Reformation: An Interview With Glenn S. Sunshine
Where to Begin?: Calvin on the Starting Point of Theology - The Knowledge of God & the Knowledge of Man
Calvin on the Redemptive Necessity of the Resurrection
Was Calvin a Calvinists?: Helm Weighs In
"The Story of Calvinism": A Sermon Preached by Phil Johnson