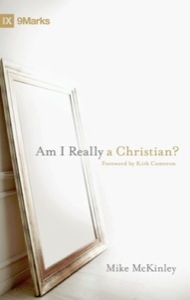 Are you a Christian? Really?
It is rare that a book dedicates its volume to such a question with the assumption that perhaps the reader is ignorant that they are lost. In his book
Am I Really a Christian?
author Mike McKinley seeks to warn the reader that just because they may consider themselves a Christian doesn't make them one. One may look like a duck, act like a duck, and talk like a duck, but that doesn't mean their a duck.
McKinley's point is evangelistic and pastoral. As a pastor I can sympathize and that is what I loved about this book. Many Christians are Christians in name only or are under the delusion that just because they signed a card, got baptized, walked an aisle, or occasionally attend a church that they must be a genuine, name-written-in-the-Lamb's-Book-of-Life Christian. McKinley writes with some real honestly. If your a Christian, you might want to double-check to make sure you actually are one.
The chapter titles say enough about the argument he puts forward. You are not a Christian . . .:
. . . Just Because You Say That You Are
. . . If You Haven't Been Born Again
. . . Just Because You Like Jesus
. . . If You Enjoy Sin
. . . If You Do Not Endure to the End
. . . If You Don't Love Other People
. . . If You Love Your Stuff
Each chapter explores these themes and the author takes the time to explain them. Chapter 2, for example, walks the reader through what Jesus meant by the phrase, "you must be born again." Unless we are regenerated, we are not saved. I particularly loved the chapters on sin and endurance. Too many people, particularly in the Bible Belt where I serve as pastor, believe that because salvation is by faith alone it doesn't matter how they live. This is an old heresy that continues to stick around. Instead, we must persevere in both holiness and through suffering and the author guides the reader through the process and how the gospel helps us live righteously and in perseverance.
But in a book where the author seeks to convince the reader they may not be a believer, is there any hope for assurance? The author couldn't be more clear in one of his last chapters; yes. Yes we can have assurance that we are truly redeemed and safe in the hands of the Redeemer.
This is a great book especially for pastors wanting some insight in how to preach on these subjects and for believers struggling with assurance and with those who have bought into cheap grace and other false gospel lies. McKinley is a good writer and anything published by Crossway is worth the read. The book has the stamp of approval of Mark Dever's 9Marks ministry. I encourage Christians, new and experienced, to consider the argument put forward here and for all believers to take the gospel more seriously.
Are you a Christian? That is the most important question we could ever ask.
This book was given to me free of charge for the purpose of this review.
Here is the author answering the question, "What is the Gospel?" in a promotional video for the book. There are several more than just this one.